Articles
Making moves in Malta
www.guardianabroad.co.uk
by Saundra Satterlee
Guardian Weekly © Guardian News and Media Limited 2007
Thursday, 23rd August, 2007
Malta is emblazoned on the minds of many as a place of espionage and intrigue. Loose fictional associations like The Maltese Falcon, alongside historical intrigues such as the Renaissance painter Caravaggio fleeing Italy to Malta in 1607 to escape a murder charge, have served to embellish Malta's legendary status.
Island style... buildings in Malta reflect a varied cultural heritage
The Republic of Malta is a cluster of small Mediterranean islands 93km from Sicily and 288km from Tunisia. Its strategic position has made it vulnerable to invasion and conquest over thousands of years, dating back at least to Neolithic times. The result has been a fusion of cultures. Malta can claim to be founded on a kind of historic – albeit accidental – multi-nationalism. Its cornucopia of architectural styles spans centuries and provides a rich historical heritage – one that Hollywood has tapped for many a feature film, including Gladiator, The Count of Monte Cristo and Troy.
Country and economy
After Phoenician and Carthaginian conquests came the Romans and St Paul, whose 60AD shipwreck led to the introduction of Christianity. The Arabs dominated throughout the 9th and 10th centuries, followed by Normans and the Aragonese, among others.
Charles V of Spain gave Malta to the Knights of the Order of St John of Jerusalem in 1530, who were to rule for over 250 years, making Malta a player in the cultural arena of 17th- and 18th-century Europe. En route to Egypt in 1798, Napoleon wrested Malta from the Knights. Enter Great Britain; Malta remained part of the British Empire until independence in 1964.
The Maltese economy is based on foreign trade, manufacturing and tourism. Malta Freeport is one of the Mediterranean's leading ports for container shipments. Low inflation and low interest rates are trademarks of the economy. The International Monetary Fund puts per capita income at just over €10,000.
Malta joined the European Union in 2004. In the lead-up to membership GDP growth faltered, but by 2005 it had recovered to a healthy 3%. In 2005 Malta joined the Exchange Rate Mechanism, and in January 2008 it will join the Eurozone. 'This is another vote of confidence for the country's economy. We predict that this will encourage further inward investment and increased interest in the property market,' says Mark Bodega, marketing director at HIFX Foreign Exchange Specialists.
The market
Over the past 15 years property prices have risen around 400%. 'Malta has always had a very strong local property market with a good amount of foreign purchases. Over the past year prices have increased by approximately 12.6%,' says Frank Salt, chairman of Frank Salt Real Estate, one the country's oldest agencies.
Well known is the historic fortified capital city of Valletta, where there are any number of period properties for sale, from mansions to more modest dwellings. A 16th-century palace on four floors with 21 rooms in need of restoration is on offer for 425,000 Maltese liri (€988,000). More affordable is a recently converted one bedroom maisonette with high ceilings and lots of original features – including a traditional wooden 'Maltese' balcony. Fitted with all the mod cons, available from Propertyline Malta for €116,000.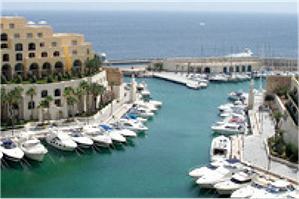 Window on the world... Inland views can be just as interesting as sea views, and cheaper Photo: Frank Salt
Nearby at Ta' Xbiex, in the Blue Harbour development facing Valletta, Coldwell Banker are selling a three bedroom modern apartment with floor-to-ceiling windows and harbour views for €699,000. Salt has identified three new hotspot developments in St Julians and Sliema, both popular destinations for foreign nationals. Portomaso Marina and Pender Place in St Julians, and Fort Cambridge in Sliema. 'The current prices for one to three bedroom apartments in these developments range from €186,000 to over €2m,' says Salt. At Portomaso, an air-conditioned three bedroom, fully furnished and highly finished penthouse with terraces overlooking the marina is on the market for €2m (through Frank Salt) – while a one bedroom apartment with inland views is available for €298,000.
The so-called 'Three Cities' of Cospicua, Sengea and Vittoriosa (aka Birgu) are collectively known as 'Cottonera'. 'Once an overlooked area where properties were cheap, Cottonera is now on the up – especially Vittoriosa where we have period properties starting from €186,000,' says Euan Phillips, manager at Propertyline Malta.
Marsaxlokk is a picturesque fishing village that many claim is the last traditional fishing community on the island. There, a terraced seafront house on four floors with three bedrooms, roof terrace and four-car garage is on offer from Propertyline Malta for €442,000.
On the smaller island of Gozo, which has long been popular as a tourist destination, you'll find fewer palaces for sale and more farmhouses. 'On the whole, Gozo is rural and quiet with properties a bit cheaper than in Malta,' says Salt.
Pitfalls and practicalities
While anyone in the world can purchase Maltese property, there are certain restrictions regarding location and the number of properties that may be bought. The Acquisition of Immovable Property (AIP) permit is normally required for the purchase of property by non-EU citizens. The administrative cost of an AIP is €233.
EU citizens who have resided in Malta for five years in a rented property don't need an AIP, but all other EU citizens do. Or, for EU citizens only, if the property is to be the buyer's main and permanent residence – not a holiday home – the AIP is waived.
However, the purchase of property in what is termed a 'special designated area' (Portomaso, for example) does not typically require an AIP for any nationality. Furthermore, more than one property may be acquired. See the Ministry of Finance website for more details.
When it comes to purchase costs, Salt explains that buyers are expected to pay approximately 6% of the purchase price – that is, 5% for stamp duty and 1% for notary fees. Malta is a low tax regime, which means no inheritance tax and a 15% income tax rate for residents.
With the adoption of the euro, some predict a surge in property prices. The jury is still out, but whatever else happens, as reported in the Economist, the euro will eliminate the cost of swapping into and out of a currency used nowhere else. On a practical level this will mean a saving for those who purchase property in euros.
Malta is three hours by aeroplane from Lisbon or London, two-and-a-half from Munich and Paris, and one-and-a-half from Rome. Recently introduced budget flights from Europe make getting there more affordable than ever. Useful information can be found on the government tourism portal, Visit Malta.