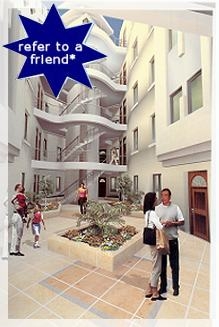 *Propertyline International offers a paid referral service. Should you know of a relative, friend or colleague interested in purchasing property overseas kindly let us know and we will forward a referral commission depending on the value of the property. On this particular development we are offering a EURO 700 referral commission.
Price: €141,000, Lm 60,531
A selection of spacious 3 double bedrooms Maisonettes forming part of a lovely, new complex, in a quiet area of the village. Layout comprises of a good size open plan, kitchen/ living/ dining, bathroom ensuite and front or back yards/ balconies. Optional 1 car lock-up garages also available. Definitely worth viewing as they will sell fast. Highly recommended !